UPCOMING WORK
""UPCOMING WORK IN VEGGIE PACKING SHEDS. WORK GIVEN IN ORDER OF CHECK IN, MUST BE ABLE TO COMMIT TO 3 MONTH CONTRACT MUST HAVE WHV AND GOOD ENGLISH. PLEASE CALL FOR MORE INFO.""
GRAPE PICKING ( VINTAGE ) BEGINS LATE JAN – MID APRIL EARLY ARRIVAL ESSENTIAL TO SECURE BED SPACE
WE HAVE ODD JOBS AND WWOOFING WORK TO SIGN OFF VISA DAYS WHILST YOU WAIT
YEAR ROUND WORK IN PACKING SHEDS COMING UP PERIODICALLY
WE ONLY ASSIST BACKPACKERS WHO ARE STAYING WITH US FIND FOR WORK
WE HAVE A $300 LONG TERM TENANT BOND FOR ALL WORKERS (CREDIT CARD PRE-AUTHORISATION ACCEPTED)
YOU MUST STAY AT THE BACKPACKERS FOR THE DURATION OF YOUR WORK CONTRACT
640true dots bottomright 400true true 800http://barossabackpackers.com.au/wp-content/plugins/thethe-image-slider/style/skins/frame-black
3000 fade false 60 bottom 30

4000 fade false 60 bottom 30

4000 fade false 60 bottom 30

4000 fade false 60 bottom 30

4000 fade false 60 bottom 30

4000 fade false 60 bottom 30

4000 fade false 60 bottom 30

4000 fade false 60 bottom 30

4000 fade false 60 bottom 30

4000 fade false 60 bottom 30

4000 fade false 60 bottom 30

4000 fade false 60 bottom 30

4000 fade false 60 bottom 30

4000 fade false 60 bottom 30

4000 fade false 60 bottom 30

4000 fade false 60 bottom 30

4000 fade true 60 bottom 30

4000 fade false 60 bottom 30

4000 fade true 80 bottom 10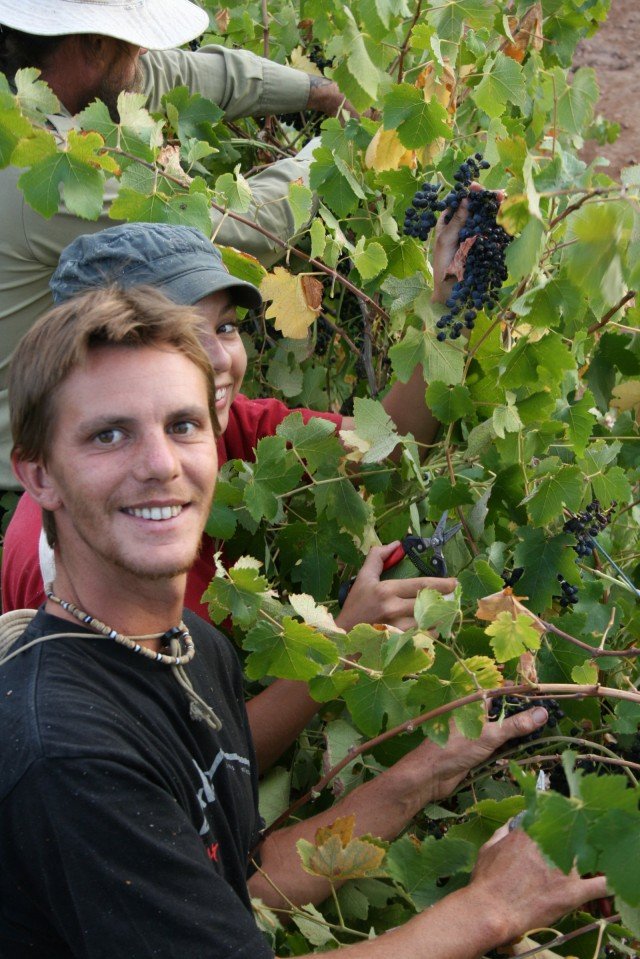 Looking for work in the Barossa Region?
The Barossa Valley looks for workers all year round!  This could be for Grapes, Potatoes, Apples, Pears, Apricots, Onions and General Farm Work.
Harvest is our most busy time of year Late January to late April and then in Winter, pruning work is available in preparation for the next harvest.
Farmers in the Barossa Valley enjoy employing Backpackers; The farmers expect a high turnover, and will hire you on a very short-term basis. You will also get to meet some great people and your knowledge of wine will most definetely improve.
Barossa Backpackers has many contacts with the 30 wineries in a 5km radius and they are always looking for workers.
"The 2012 vintage all 80+ guests actively searching for work were able to secure jobs for up to 18 weeks+ and a 2nd year visas" 
"For pruning starting May 2012 had the same success as vintage with helping guests find work" 
"Farmers or contractors can pay between $15 -$20 depending on who you work for. Typical days start around 7am and finish around 4:30pm depending on the amount of work that needs to be done." 
"If you wish to extend your Visa application please inform the work contractor upon arrival."
PLEASE NOTE
DUE TO THE LARGE AMOUNT OF PEOPLE LOOKING FOR WORK AND THE LIMITED BEDS AVAILABLE, WE RECOMMEND ARRIVING EARLY TO SECURE A JOB AND A BED.
Frequently Asked Questions
How much does the job pay?
Typical Harvest jobs pay between $15 – $20 per hour. Lots of people do these jobs for the experience of living and working in Australia as well as for their Second Year Visa. The jobs we organise will pay you enough to cover your rent and living expenses, but aside from that our main focus is that the work will help you qualifies for your 2nd year working holiday visa. If your looking for a job to save money and travel around Australia our jobs would not be suited for you.
Can I come when the job starts?
Because we give jobs on a first come first served basis; if you arrive the same day the job starts, there is a good chance someone else is already here waiting for the job to become available. It is suggested you come at least 4 days before a job starts. Sometime it can take up to a week for a job to come up due to situations beyond our control, it is important to remember in your own country how long does it take you to find a job? Finding a job in Australia is just the same it is not instant.
 Can you guarantee me a job?
In Australia no one "guarantees" jobs. Guarantees come with toasters not jobs. Please be wary of anyone who guarantees you jobs as it contains a high possibility of being fraudulent. Once you arrive staff at Barossa Backpackers will interview you to see if you would be a suitable fit for our job positions. We need to maintain a good relationship with our contractors by sending them the best fit candidates and unfortunately this work may not be suitable for everyone. Staff reserve the right not to place guests into a job positions as they see fit.
Can you reserve a position for me?
Unfortunately in the past we have reserved positions and the guests never arrived which caused problems for the contractor.  Due to this occurring we do not reserve positions for anyone.
The job starts on (x) date can I arrive a week later?  
Sure, please come to our hostel, jobs come up here and there all the time. The job you are applying for would unfortunately be more than likely filled. This is because;
The contractor needs to get his work done by a specific date.
There are many other backpackers who want the same job so there is a good chance that the position has been filled with another backpacker who arrived before you.
I am in (Sydney, Cairns, Melbourne etc) if I fly to Adelaide will the job still be available?
How quickly can you get here? There are many other backpackers who are also looking for work to get there second year visa. Sometimes we have people prepared to wait 1 week till work starts, sometimes there is nobody on the work list and you can start straight away. It depends on how many people are on the work list before you. As we work on a first come first served basis.
Does this job count towards a 2nd year visa?
Yes, all farming work in the Barossa Region counts towards your second year visa.
Do I need experience?
No. Most jobs you will need two arms and two legs . Farmers are looking for hard workers. For Pruning season we offer  training courses to help you get started with Pruning. If you have tractor experience or a forklift licence please let us know as this improves your chances of getting work. Basic English skills is ok for working.
Great this job sounds fantastic what do I need to do?
Please read the below terms and conditions very carefully. Once you agree to them make your way to Barossa Backpackers and we will be more than happy to put you on the work list to help you start work.
IMPORTANT: WE ARE NOT A FARM AND WE DO NOT EMPLOYEE GUESTS DIRECTLY. FARMERS AND CONTRACTORS COME TO US AND WE PASS ON THEIR CONTACT DETAILS AND JOB DESCRIPTIONS TO GUESTS. FARMERS AND CONTRACTORS MAY CANCEL/DELAY JOBS AND WORKERS ARE AT THEIR MERCY. WE ARE AN ACCOMMODATION PROVIDER AND WE HAVE LIMITED TRANSPORTATION. JOBS ARE PASSED ON TO GUEST IN ORDER OF THE WORK-LIST.
PLEASE NOTE
WE ONLY ASSIST GUESTS WHO ARE STAYING AT BAROSSA BACKPACKERS LOOK FOR WORK.
SEASON CAN BE DELAYED DUE TO WEATHER CONDITIONS
GRAPE PICKING   LATE JAN – LATE APRIL
PRUNING  MID MAY- LATE SEPTEMBER
WE DO NOT GUARANTEE OR RESERVE JOBS, WE DO HOWEVER TRY OUR HARDEST TO FIND WORK FOR BACKPACKERS
WE ARE AN ACCOMMODATION PROVIDER FIRST AND FOREMOST. WE ASSIST IN WORK PLACEMENT FOR OUR GUESTS ONLY. THIS IS AN ADDED SERVICE, WE DO NOT RECEIVE COMMISSION FOR FINDING PEOPLE WORK OR CHARGE YOU TO PLACE YOU IN WORK.
STAFF RESERVE THE RIGHT NOT TO SEND YOU TO POSITION IF THEY BELIEVE YOU ARE NOT SUITABLE. WE NEED TO MAINTAIN A GOOD RELATIONSHIP WITH OUR CONTRACTORS BY SENDING THEM THE CORRECT CANDIDATES.
ONCE YOU ARE PLACED WITH A CONTRACTOR OR FARMER IT IS UP TO THEIR DISCRETION IF THEY WANT YOU. IF YOU DO NOT WORK HARD ENOUGH AND THEY NO LONGER WANT YOU THAT IS YOUR PROBLEM.
YOUR WORK ETHIC IS YOUR OWN RESPONSIBILITY AND IF WORK CONTRACTORS/ FARMERS DO NOT WISH TO EMPLOY YOU AFTER A TRIAL PERIOD THAT IS YOUR OWN FAULT, BAROSSA BACKPACKERS IS NOT RESPONSIBLE FOR THIS. WE WILL NOT PUT YOU BACK ON THE WORK LIST IF YOU LOSE YOUR JOB.
WE WILL NOT RESERVE ANY POSITIONS FOR ANYONE
PAY AND WAGES ARE BETWEEN THE EMPLOYEE AND CONTRACTOR/FARMER. BAROSSA BACKPACKERS HAS NOTHING TO DO WITH PAY DISPUTES. WE ARE NOT INVOLVED WITH PAY/WAGES AT ALL. WE ARE AN ACCOMMODATION PROVIDER
WORK START DATES DEPEND ON WEATHER THIS MEANS THEY CAN BE CANCELLED AT A MOMENTS NOTICE
AMOUNT OF WORK DEPENDS ON THE SIZE OF THE CROP THIS CAN EFFECT HOW LONG YOU WORK FOR
CONTRACTORS WILL ONLY EMPLOY PEOPLE WITH A TAX FILE NUMBER, AUSTRALIAN BANK ACCOUNT AND WORKING VISA WITH THEIR PASSPORT.
HAVING A CAR MAY INCREASE YOUR CHANCE OF HAVING A JOB AS WE ARE LIMITED TO 5 PEOPLE MOVERS VANS HOLDING 8 PEOPLE PER CAR AS TRANSPORT 
ONCE WE HAVE FOUND THE BACKPACKER A JOB YOU MUST SIGN A LONG TERM TENANT AGREEMENT STATING THAT YOU WILL STAY WITH US FOR THE DURATION OF YOUR WORK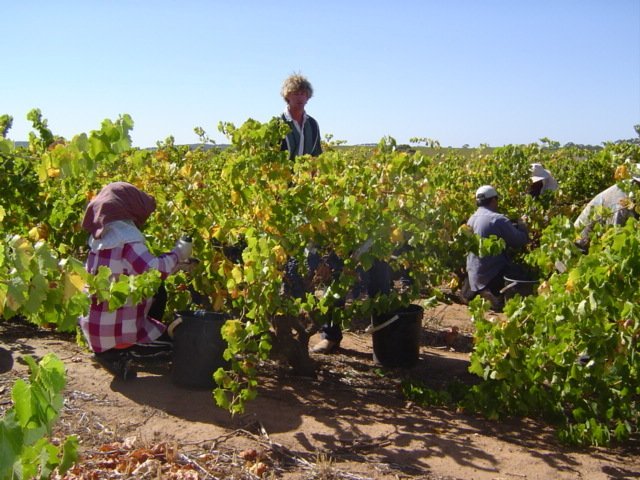 We do not guarantee or reserve jobs as people have not shown up to work in the past.
Jobs are given on a first come first served basis who are staying in the hostel.
You must have permission to work in Australia
For help with your Visa Application please visit
For help with your Australian Tax please click
www.backpackersbuddy.com.au tax returns site
For help with your 2nd year Working Holiday Visa visit www.immi.gov.au/visitors/working-holiday/ or call the Department of Immigration and Citizenship on 1800 040 070
Download second year visa form (pdf file)

For other non picking positions please approach the following employment agency's;
www.bibber.com.au   (a great company for helping you obtain working visa's and a wine job in Australia)
The National Harvest Guide www.harvesttrail.gov.au is a good guide for seasonal work or call 1800 062 332
or http://jobsearch.gov.au/HarvestTrail/TownDetails.aspx?TownID=69
For Fruit Picking sites please see
And of course