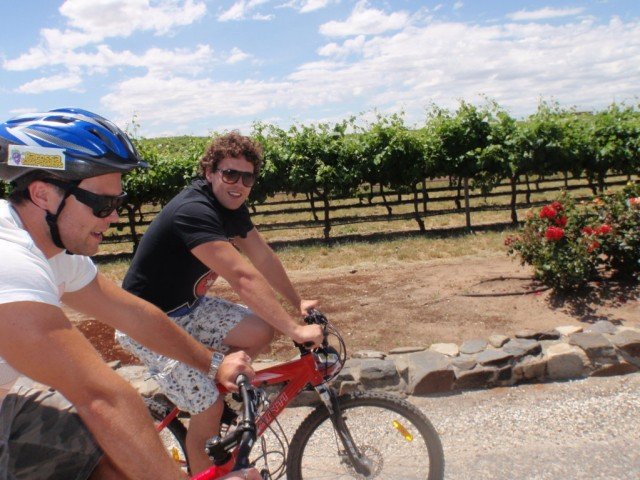 WE NO LONGER HIRE BIKES
YOU CAN HIRE BIKES FROM THE BAROSSA VISITOR INFORMATION CENTRE (08) 8563 0600
There are many ways to explore the Barossa but one of the best ways is to take a tour of the Barossa by bike and sample the Barossa Valley food and wine. Ride as much or as little as you want through the picturesque countryside, surrounded by gentle rolling hills covered in rows of grape vines and dotted with unique cellar doors. Follow one of our suggested map bike routes of the Barossa Valley that have been designed to make your ride as fun and pleasurable as possible or plan your own route and take advantage of the delightful countryside.
"By Far best way to see the Barossa Valley is by hiring a bike from Barossa Backpackers !!"
Brett and Ryan from Sydney (Pictured left) March 2012
Scroll down and have a look at our recommended rides / maps for hiring a bike to explore the Barossa from Barossa Backpackers.
We highly recommend hiring a bike and cycling your way around the Barossa Valley, with bike hire available at an affordable price means you'll have more money to stock up on a few bottles of Shiraz or Cabernet (the local specialties).
Scroll down and have a look at our recommended rides from Barossa Backpackers.